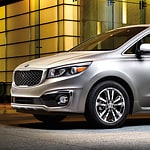 Many tire blowouts occur as the result of a defective tire. There is nothing that you can do about that. However, most tire blowouts can be avoided. Under-inflation is one of the most common causes of a tire blowout. You may not know if the tire pressure is low, so it is a good idea to check your tires monthly.
Tire blowouts are also more likely to occur if your vehicle is overloaded. Avoid exceeding the recommended weight of your vehicle. Furthermore, you will need to make sure that you are careful while you are driving. You need to look out for curbs and potholes. You will also need to follow the speed limit at all times. Driving too fast will put an extra strain on your tires.
You need to have your tires serviced by a professional. Schedule an appointment to have your vehicle serviced at the dealership today.