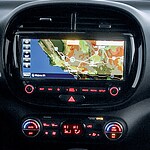 The newest vehicles have all kinds of technology that drivers have never seen before. The Kia Optima is taking that a step further by including many of these options in the standard edition. This includes driver assistance features such as driver attention warnings and blind-spot monitoring. This is something that even the lower tier luxury sedans may not have.
The Kia Optima is also optimized for a safe drive experiencing. You can use the rearview camera with parking assist to perfectly get the tight spot at the mall, or drivers may want to conduct meetings, send texts, or open up their favorite playlists of TED Talks on the way into work. It's all possible with instant connectivity through Android Auto or Apple CarPlay.
Want to see what we mean by advanced technology? You need to see the Kia Optima to believe it. You can stop by Kia of Chula Vista to get the best price on a new Optima.