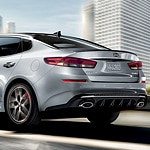 For those who want more in their daily commute, the Kia Optima is here. With a laundry list of technology features and high fuel efficiency, the Kia also has a serene cabin and a smooth driving experience. The easy-to-use infotainment controls, six-speaker audio system, and spacious seating make it the perfect midsize sedan for you and your family.

New Safety Features Now Standard

There are new driver assistance options such as blind spot monitoring, lane keep assist, lane follow warnings, driver attention warnings, and rearview camera with parking assist. You can control everything with voice commands, so if you need to make a call or get directions, your phone is right there without you ever having to take your eyes off the road.
Higher Performance

?The latest Optima models also feature better engines in the base. The standard four-cylinder delivers 178 horsepower, but you can get up to 245 horsepower with the premium trims.
Want to take a test drive of the latest Kia Optima? You can head to Kia of Chula Vista or schedule your experience online.